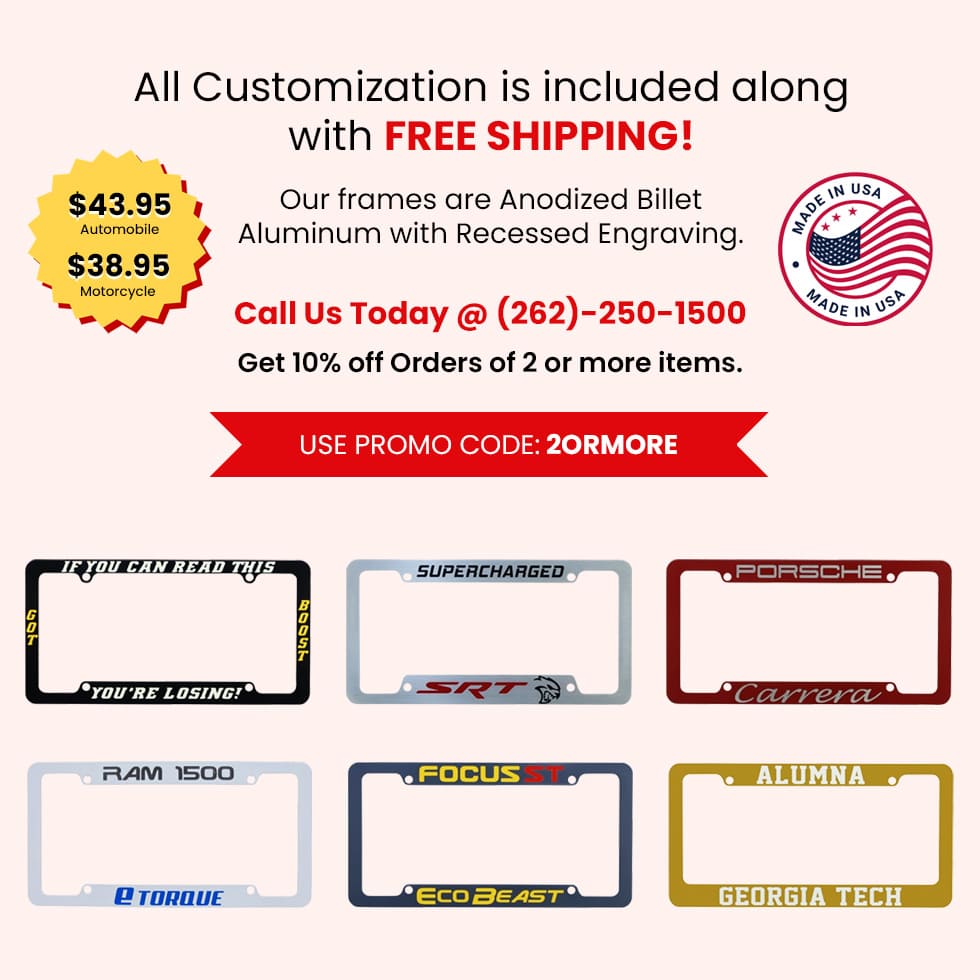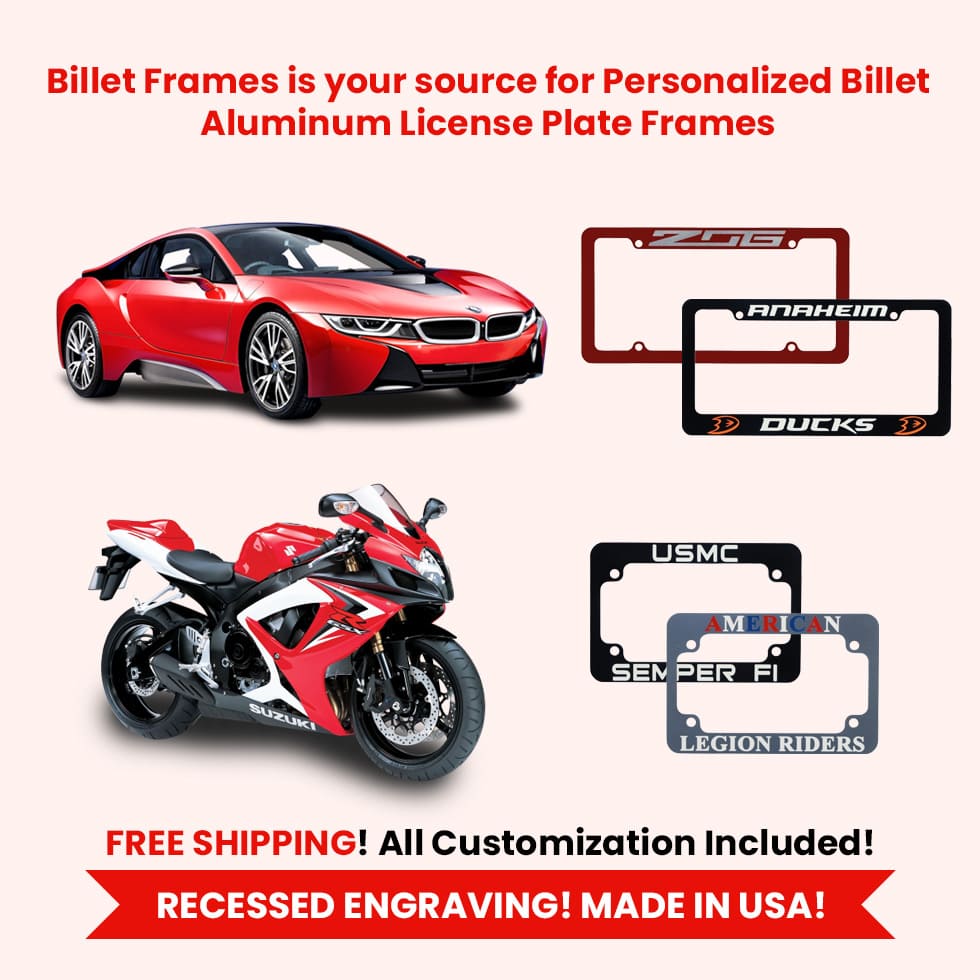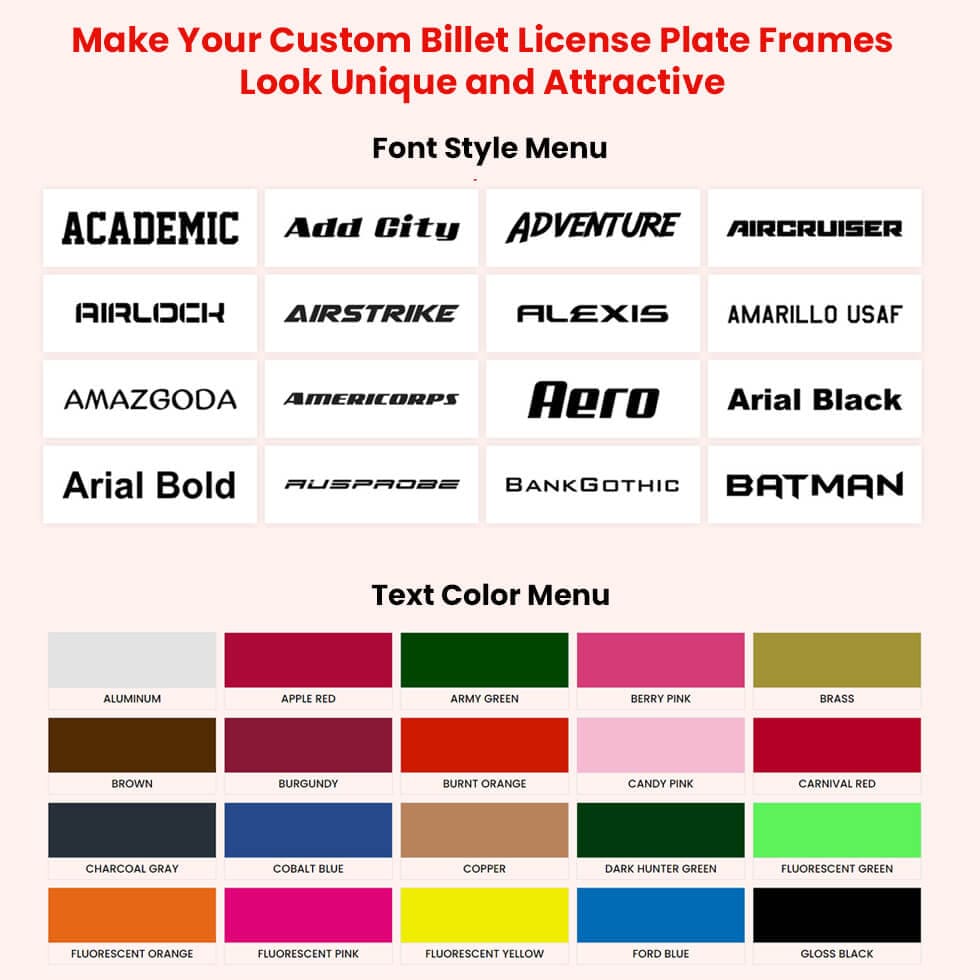 WELCOME TO BILLET FRAMES!
Design Custom License Plate Frames for your Automobile or Motorcycle Today!
Billet Aluminum Custom License Plate Frames. Made in USA. Engrave your Personalized license plate frames text, logo, or art work. Choose frame style, font and colors. Our  License Frames and  License Plate holder are solid billet aluminum with an all weather resistant, durable anodized frame finish.
All Products 100% American Made
6 anodized Frame Colors
CNC Recessed Engraved
Powder Coated White Frames
No Decals, Laminates, or Stickers
100+ Font Choices
10 unique frame styles
50+ Text Colors
Products we offer
Our Products
Billet Frames was founded in 2003 by automobile and motorcycle enthusiasts.
Our goal is to provide our fellow enthusiasts with high quality personalized billet aluminum license plate frames. We only offer recessed engraved solid billet aluminum frames, personalized to your specifications. All of our products are 100% American made here in Germantown Wisconsin.
our portfolio
Frame Gallery
Browse our license plate frame gallery to get inspiration for your own customized frame.
our fonts
Font Library
Below is a small portion of our extensive font library for our Personalized License Plate Frames.
















Why People Love Billet Frames
I received my Personalized License Plate Frames today it is simply amazing I could not be any happier and will be telling everyone about your business!! I am going to order a bunch as Christmas presents as well.
Received the frame a couple of days ago. It looks great! My husband will love it. Thanks again!
I just received the plate. All I can say is: WOW. You are a rock star, I mean that. Great work!
Plate frame arrived yesterday…THANK YOU AGAIN for the modification and excellent customer service!
Hi Richard, As a police officer of 28 years, and now the CEO and co owner of a game design company I know how important customer service is in business. Your attention to detail and your concern for my satisfaction with both my order and the process is exceptional and very much appreciated. I look forward to receiving this plate frame which will be going on the back of my dark red convertible 2008 Corvette Roadster. Thanks again for your kindness and excellent customer service.
Richard, Received frames and they are very nice. I will gladly recommend your shop to anyone who cares to listen and wants a truly customized frame that doesn't simply have cheap plastic inserts as the customization. Your work is definitely quality in what that term really means. As always thanks for a great product and service, and all the best to you. Thanks again for superb workmanship!
Richard, The frame came in today & it looks fantastic, Thank You!!
Hey Richard … we received the frames. They are excellent. Thanks. Also, thanks for your service. You guys are world class.
Rich, I received the frame a few days ago and couldn't be happier. Thanks for all the time you took to make it right.
Richard, OMG, the frame is Outstanding!!! I love it and came out better than expected!! I will definitely refer more business to you and get your review up on Google and I'll upload pictures!! You are the man Richard!! Thanks again for knocking it out of the park with this custom frame!!
Hi Richard: I got it…I LOVE IT….review posted on Face Book! Best, Al Rich, I received the frame a few days ago and couldn't be happier. Thanks for all the time you took to make it right.
Ordered frames from three different companies and the first two companies sent me these stamped aluminium dollar store frames that are "laser engraved" more like laser etched. Billet Frames sent me solid frames with actually embossed color filled lettering. Love them.
Amazing job, quality, and price! I bought a frame for my boyfriend and the first frame I bought didn't fit his truck so they redid a different one for no charge. This company truly has the best customer service out there! I would highly consider it if you are looking for a custom made frame!
Great company and great product! Probably one of the best customer service experiences that I have ever had!
Great customer assistance! Can't wait to get my frame! Thanks Richard!